2011 GDUSA Awards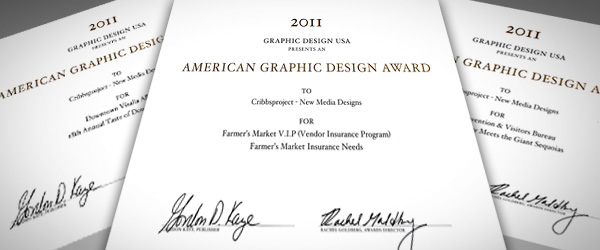 2011 Graphic Design USA Awards
Cribbsproject is proud to be awarded (3) three 2011 American Graphic Design Awards from Graphic Design USA. The 2011 American Graphic Design Awards attracted a remarkable 8,000 + entries; a very select 15 percent are recognized with an awards Certificate of Excellence.
For nearly five decades, Graphic Design USA has presented national design competitions that spotlight areas of excellence and opportunity for creative professionals. The American Graphic Design Awards is the original and the flagship, open to everyone in the community: advertising agencies, graphic design firms, corporations, institutions, publishers and more. It honors outstanding work across all media: print and collateral, advertising and sales promotion, corporate identity and logos, internet and interactive design, packaging and p-o-p, broadcast and motion graphics.
3 out of 6 designs were chosen for these awards.
Downtown Visalia Alliance: 18th Annual Taste of Downtown Visalia
(Poster / Post Card / Ticket Info Designs)
Visalia Convention & Visitors Bureau: Where the Valley Meets the Giant Sequoias
(Post Card / Sales Card Handout)
Houston Insurance in Tulare: Farmer's Market V.I.P. (Vendor Insurance Program)
Farmer's Market Insurance Needs – Folder / Program Design